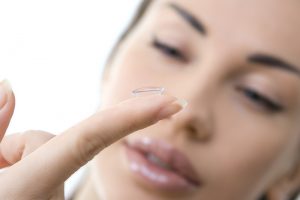 Here at Beverly Plaza Optometric Center, we are pleased to offer many types of contact lenses. We are also dedicated to ensuring they fit correctly. When choosing contacts, we will go over your options to decide the best type of lenses for your eyes, especially if you have any conditions that don't make you a good candidate for regular contact lenses.
Regular Contact Lens
Toric Contact Lens
Multi Focal Contact Lens
Spherical Contact Lens
Specialty Contact Lens
Regular contact lenses are the easiest to fit. During your pre-fitting exam, we will take many measurements to determine the size you need. It is important that the contact lens covers the entire cornea.
Toric contact lenses are soft lenses used for people who suffer from any form of astigmatism. Fitting them is not much different than fitting regular contact lenses. It just requires a few measurements at a pre-fitting examination.
Monovision lenses are not for most people, especially those who need to have perfect vision all of the time. Drivers and other people who rely on their vision are not good candidates for monovision contact lenses. Even with the correct prescription and fit, they take some adjusting before you can see clearly.
Multifocal soft contact lenses are used to correct presbyopia, so it is really important to us that we understand your needs, lifestyle, and expectations so we can determine the right fit for you. They should fit comfortably right away if we do our job correctly, though these are often the hardest contacts to fit.
It is very important for your comfort to have the correct fit when wearing contact lenses. We are dedicated to measuring your eye correctly so that you can have the correct fit right away. We always try to send home a trial pair to ensure the correct prescription and fit before ordering more contact lenses.
If you want contacts or have any questions about getting them fit properly, don't hesitate to contact us today at (310) 360-8220.